Dietary Don'ts – Unclean Animals, Online Quizzes, Worksheets


Add to favorites tutorial


Add to favorites tutorialDietary Don'ts – Unclean Animals, Online Quizzes, Worksheets THERE IS NEVER ANY TIME WHEN YOU MAY EAT THESE ANIMALS FOR FOOD. THEY ARE UNCLEAN & UNFIT FOR SET-APART PEOPLE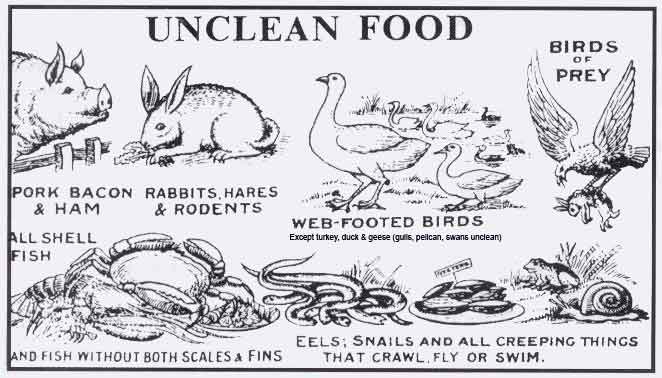 Summary of Dietary Don't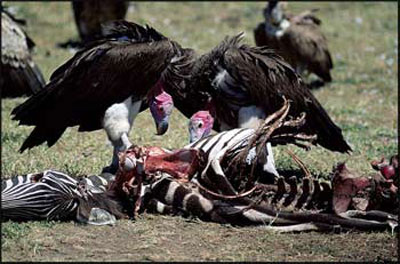 Vulture eating a Dead Zebra 1) DO NOT EAT UNCLEAN BIRDS FOR FOOD, as it is written,"But these are they of which ye shall not eat: the eagle, and the ossifrage, and the ospray, And the glede, and the kite, and the vulture after his kind, And every raven after his kind. And the owl, and the night hawk, and the cuckow, and the hawk after his kind, The little owl, and the great owl, and the swan, And the pelican, and the gier eagle, and the cormorant, And the stork, and the heron after her kind, and the lapwing, and the bat. And every creeping thing that flieth is unclean unto you: they shall not be eaten. But of all clean fowls ye may eat." – (Deuteronomy 14:11-19)
2) DO NOT EAT ANIMALS IN THE WATER THAT DON'T HAVE FINS & SCALES, as it is written, "And whatsoever hath not fins and scales ye may not eat; it is unclean unto you." – (Deuteronomy 14:10)
3) DO NOT EAT UNCLEAN BEASTS OF THE FIELD FOR FOOD, as it is written, "Nevertheless these shall ye not eat of them that chew the cud, or of them that divide the hoof: as the camel, because he cheweth the cud, but divideth not the hoof; he is unclean unto you. And the coney, because he cheweth the cud, but divideth not the hoof; he is unclean unto you. And the hare, because he cheweth the cud, but divideth not the hoof; he is unclean unto you. And the swine, though he divide the hoof, and be clovenfooted, yet he cheweth not the cud; he is unclean to you"  – (Leviticus 11:4-7)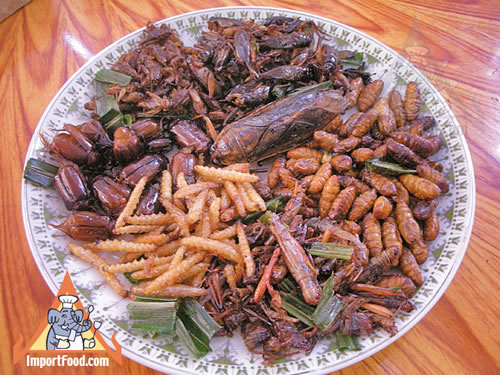 ) ALL FLYING CREEPING THINGS ARE NOT PERMITTED FOR FOOD, BESIDES THE EXCEPTION, as it is written, "But all other flying creeping things, which have four feet, shall be an abomination unto you." – (Leviticus 11:23)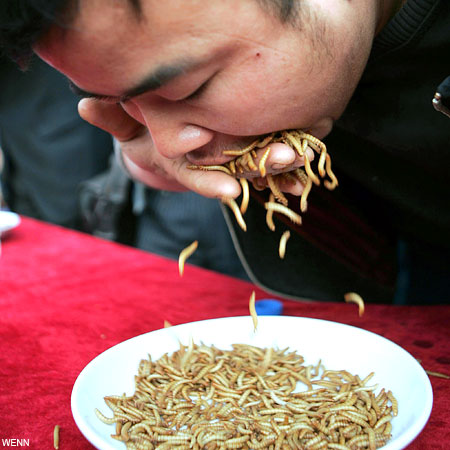 5) ALL CREEPING THINGS, SUCH AS WORMS or INSECTS, SHALL NOT BE EATEN, as it is written, "And every creeping thing that creepeth upon the earth shall be an abomination; it shall not be eaten. Whatsoever goeth upon the belly, and whatsoever goeth upon all four, or whatsoever hath more feet among all creeping things that creep upon the earth, them ye shall not eat; for they are an abomination. Ye shall not make yourselves abominable with any creeping thing that creepeth, neither shall ye make yourselves unclean with them, that ye should be defiled thereby." – (Leviticus 11:41-43)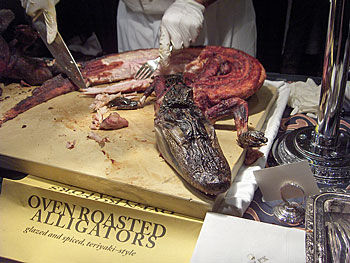 6) DO NOT EAT REPTILES FOR FOOD, as it is written, "neither shall ye defile yourselves with any manner of creeping thing that creepeth upon the earth." – (Leviticus 11:44)
Leviticus 20:25 Leviticus 11:44-45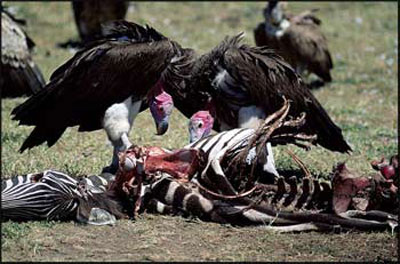 Vulture eating a Dead Zebra 1) DO NOT EAT UNCLEAN BIRDS FOR FOOD, as it is written,"But these are they of which ye shall not eat: the eagle, and the ossifrage, and the ospray, And the glede, and the kite, and the vulture after his kind, And every raven after his kind. And the owl, and the night hawk, and the cuckow, and the hawk after his kind, The little owl, and the great owl, and the swan, And the pelican, and the gier eagle, and the cormorant, And the stork, and the heron after her kind, and the lapwing, and the bat. And every creeping thing that flieth is unclean unto you: they shall not be eaten. But of all clean fowls ye may eat." – (Deuteronomy 14:11-19)
2) DO NOT EAT ANIMALS IN THE WATER THAT DON'T HAVE FINS & SCALES, as it is written, "And whatsoever hath not fins and scales ye may not eat; it is unclean unto you." – (Deuteronomy 14:10) As it is also written, "And all that have not fins and scales in the seas, and in the rivers, of all that move in the waters, and of any living thing which is in the waters, they shall be an abomination unto you: They shall be even an abomination unto you; ye shall not eat of their flesh, but ye shall have their carcases in abomination. Whatsoever hath no fins nor scales in the waters, that shall be an abomination unto you." – "Leviticus 11:10-12"
Reason for not eating animals in the water without fins & scales, as it is written, "it is unclean unto you." – (Deuteronomy 14:10) Bottom Dwellers or Predatory Scavengers "All the important fish with poisonous flesh… lack ordinary scales…. Instead, these poisonous fish are covered with bristles or spiny scales, strong sharp thorns, or spines, or are encased in a bony box-like covering. Some have naked skin, that is, no spines or scales" (Survival on land and Sea, 1944). -U.S. Navy manal comments,
 3) DO NOT EAT UNCLEAN BEASTS OF THE FIELD FOR FOOD,
as it is written,
"Nevertheless these shall ye not eat of them that chew the cud, or of them that divide the hoof: as the camel, because he cheweth the cud, but divideth not the hoof; he is unclean unto you. And the coney, because he cheweth the cud, but divideth not the hoof; he is unclean unto you. And the hare, because he cheweth the cud, but divideth not the hoof; he is unclean unto you. And the swine, though he divide the hoof, and be clovenfooted, yet he cheweth not the cud; he is unclean to you"  
– (Leviticus 11:4-7)
Reason for not eating unclean beast of the field for food,
as it is written,
"he is unclean to you"
– (Leviticus 11:7)
Eating Swine (aka Pig, Pork)
"the Swine, though he divide the hoof, and be cloven-footed, yet he chews not the cud; he is unclean to you. Of their flesh shall you not eat, and their carcass shall you not touch" (Leviticus 11:7-8). The pig is a scavenger eating dead and decayed flesh, quite often other unclean animals. The pig can carry up to 200 different diseases, and 18 different worms and other parasites. Pigs carry large round worms, which can be 18 inches long, the tape worm, three kinds of stomach worms, a tiny hair worm, a hookworm, and the thorn-headed worm, one specie of whip worm and several species of nodular worms exist in the large intestine as well as the kidney worm. It's muscles are alive with tape worms and the Trichinella cysts abound in their flesh.
"Pigs eat enormous amounts of food, and this dilutes the hydrochloric acid in the pig's stomach. This in turn allows toxins, viruses, parasites and bacteria to be absorbed into the animal's flesh …. Pigs readily harbor parasites including Trichinella, the pork tapeworm, and toxoplasmosis." [What Would Jesus Eat – The problem With Pork by Don Colbert]
According to the Mayo Clinic pork may be the cause of Hepatitis E, a rare form of Hepatitis not normally found in the U.S. Hepatitis E virus (HEV) is the primary cause of epidemic and sporadic enterically transmitted non-A, non-B hepatitis. The comment is based on two recent isolations of HEV from American swine that suggest that, in the United States, hepatitis E is a zoonosis with the swine population as one of its hosts. [Mayo Clinic Proc December 1997; 72:1133-1136, 1197-1198] More support of this – //articles.mercola.com/sites/articles/archive/2008/01/02/pork-and-hepatitis-e.aspx
Liver specialists, Drs. Amin A. Nanji and Samuel W. French, found in an analysis of statistics that they did that there was a significant correlation between cirrhosis and pork consumption. Their conclusions were, that alcohol by itself is not a cause of cirrhosis of the liver, but together with pork consumption it is a serious danger. [Lancet, Relationship Between Pork Consumption and Cirrhosis; 23 March 1985, pages 681-683]
Pigs are normally fed all the refuse from restaurants, chicken hatcheries and slaughter houses. If they are raised with other animals they will eat the refuse of those animals as this is part of their normal diet and the purpose for which they were created. It was YHWH's purpose for them to be garbage collectors and waste removalists.
"Pigs are known to carry up to 200 diseases and 18 different parasites and worms … A person may be committing slow suicide when they eat bacon, ham, sausage or pork chops. Even hog farmers who insist that corn-fed hogs are safe won't give their guarantee that their indoor hogs haven't eaten rats, mice, fecal waste, or maggots within the past few days …. Pork should be considered a homotoxin (human poison) and the probable cause of many common sicknesses and degenerative diseases." [The Genesis Diet – Gordon S. Tessler, PhD.]
Trichinella Spiralis Trichinella Spiralis is a microscopic nematode variety of roundworm which is prevalent in pigs, as well as other animals, that causes the parasitic disease called trichinosis from the consumption of inadequately cooked meat of infected animals. The larvae are released from the Trichinella cysts in the pig's flesh into the intestines, and are then carried from the gastrointestinal tract by the bloodstream to various muscles, where they become encysted, causing pain, fever and muscle deterioration. Symptoms may appear twelve hours to two days after ingesting them and as a result of the inflammation which they cause, there can be an immunological reaction of nausea, abdominal pain, vomiting, puffiness around the eyes, headaches, possible delirium, sweating and diarrhea followed by fever five to seven days later. After ten days intense muscular pain, difficulty breathing, weakening of pulse and blood pressure, heart muscle damage and various nervous disorders may occur. People with trichinosis usually recover in about six months, after the mature larvae become encysted.
Some people recovering from trichinosis suffer permanent heart or eye damage, and about 5 per cent of cases are fatal due to heart failure, respiratory complications or kidney malfunction. Because of the difficulty of diagnosis in its early stage, the disease is rarely treated then. It is estimated that 10% to 20% of the adult population of the United States suffers from trichinosis at some time, quite often wrongly diagnosed undiagnosed in its early stages as muscular rheumatism. au.encarta.msn.com/text_761565232__1/trichinosis.html
A special report on trichinosis was presented at a Conference on Communicable Diseases by Dr. Manley, an expert on animal diseases. The report revealed that autopsies showed that one out of three people are infected with trichinosis. It is a much more serious and widespread problem that most people believe because it is often not diagnosed properly and the symptoms are mistaken for at least 40 other diseases. It can cause cancer of the stomach and intestines.
"Physicians have confused trichinosis with some fifty ailments ranging from typhoid fever to acute alcoholism. That pain in your arm or leg may be arthritis or rheumatism, but it may be trichinosis. That pain in your back may mean a gall bladder involvement, but it may mean trichinosis." [Senator Thomas C. Desmond, chairman of New York Trichinosis Committee]
The trichinae worms are so small that only a highly trained inspector using a powerful microscope can detect their presence (not normal inspection procedure). When pork is stamped as inspected and passed by authorities it does not indicate that it is trichina-free, although where indoor husbandry is practiced it is not common. Pig farmers cannot guarantee that the pigs have not consumed offal and other vermin outside of the diet fed to them which could cause them to be carriers of the trichinae worms. Despite rigid standards of meat inspection, infected pork can sometimes pass inspection because the disease is extremely difficult to recognize.
"Routine meat inspection doesn't always tell you that it is infected, either. The skin tests that were tried to detect infected pigs haven't been successful." [Dr. Lamb – Abilene reporter News]
Trichina cysts in pork may be destroyed completely by freezing the meat at -15° C (+5° F) for 21 days or -30° C (-22° F) for about 25 hours. Trichina larvae that are not encysted are claimed to be destroyed when the meat is heated to 66° C (150° F). Ordinary curing and smoking processes do not render pork safe for consumption. But it has been reported from laboratory tests that trichinae-laden flesh was heated to an very high temperature and then put under a microscope and some worms were still alive and moving about. The supposition that all of these worms can be killed in cooking is not to be relied upon. The nation of Turkey which avoids eating Pigs or any other unclean meat, has a very low incidence of cancer. Israel's parliament prohibits the "raising, keeping, or slaughtering" of swine in most areas of the country. Former Prime Minister David Ben Gurion stated at the Jubilee celebration of Israel's Medical Association that, "Israel has the lowest death rate In the world" (i.e. the highest life expectancy)
Reference:
http://en.wikibooks.org/wiki/Hebrew_Roots/Unclean_foods/Diseases
QUESTIONS:
HOW MANY DISEASES AND WORMS DO PIGS CARRY? WHAT PURPOSE DO YOU THINK YHWH MADE PIGS FOR? THE NATION TURKEY, AVOIDS EATING UNCLEAN ANIMALS & PIGS, WHAT DISEASE DO THEY HAVE LOW OF? WHICH COUNTRY IN THE WORLD HAS THE LOWEST DEATH RATE? DO THEY EAT PORK?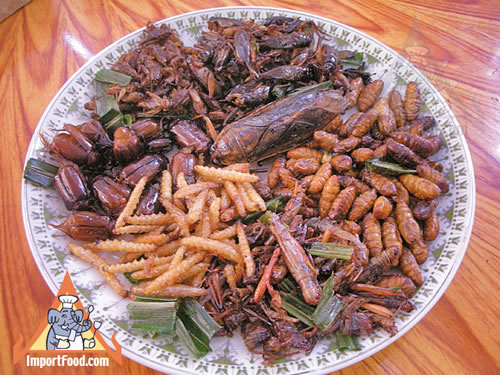 this is what people from other countries call "food", but it is not permitted to eat unclean insects or worms 4) ALL FLYING CREEPING THINGS ARE NOT PERMITTED FOR FOOD, BESIDES THE EXCEPTION, as it is written, "But all other flying creeping things, which have four feet, shall be an abomination unto you." – (Leviticus 11:23)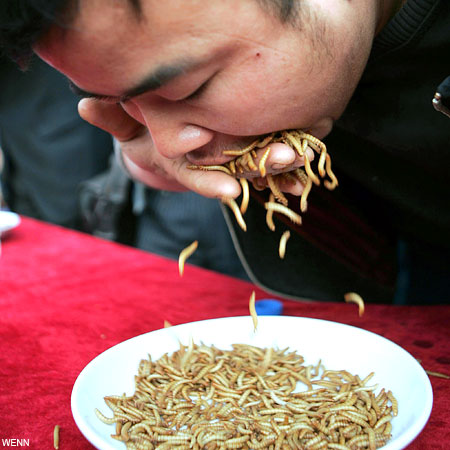 5) ALL CREEPING THINGS, SUCH AS WORMS or INSECTS, SHALL NOT BE EATEN, as it is written, "And every creeping thing that creepeth upon the earth shall be an abomination; it shall not be eaten. Whatsoever goeth upon the belly, and whatsoever goeth upon all four, or whatsoever hath more feet among all creeping things that creep upon the earth, them ye shall not eat; for they are an abomination. Ye shall not make yourselves abominable with any creeping thing that creepeth, neither shall ye make yourselves unclean with them, that ye should be defiled thereby." – (Leviticus 11:41-43)
Reason for not eating all creeping things, such as worms & insects, as it is written, "For I am YHWH your Elohim: ye shall therefore sanctify yourselves, and ye shall be set-apart; for I am set-apart: neither shall ye defile yourselves with any manner of creeping thing that creepeth upon the earth. For I am YHWH that bringeth you up out of the land of Egypt, to be your Elohim: ye shall therefore be set-apart, for I am set-apart." – (Leviticus 11:44-45)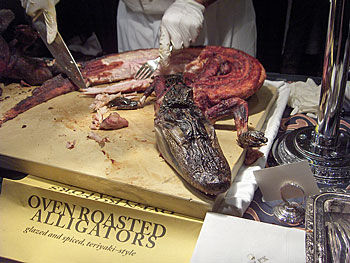 this is an Alligator someone is trying to make a meal out of, he is a "creeping thing". This is what the scriptures calls, any "other creeping". Basically, if Yah didn't say you can it an animal don't! 6) DO NOT EAT REPTILES FOR FOOD, as it is written, "neither shall ye defile yourselves with any manner of creeping thing that creepeth upon the earth." – (Leviticus 11:44)
Take the online Quiz
http://academyoferudition.com/ethics/dietary-dont-online-quiz-email-results/


Vulture eating a Dead Zebra 1) DO NOT EAT UNCLEAN BIRDS FOR FOOD, as it is written,"But these are they of which ye shall not eat: the eagle, and the ossifrage, and the ospray, And the glede, and the kite, and the vulture after his kind, And every raven after his kind. And the owl, and the night hawk, and the cuckow, and the hawk after his kind, The little owl, and the great owl, and the swan, And the pelican, and the gier eagle, and the cormorant, And the stork, and the heron after her kind, and the lapwing, and the bat. And every creeping thing that flieth is unclean unto you: they shall not be eaten. But of all clean fowls ye may eat." – (Deuteronomy 14:11-19) [/tab]
(1864) Page Views